Online High School for young Athletes.
From 9th to 12th grade | 1 year per grade
Students extend their knowledge through our online high school program, achieve academic excellence, and are ready to proceed to a college or a university. They get the practical knowledge and skills necessary for the 21st century.
When it comes to young athletes, it is in the age of 15 and 18 when their athletic career becomes more demanding. Sports obligations are frequently confronted with schooling, which can become a problem. Online schooling is the perfect solution that allows students to create the ideal balance between sports and school life.
Sport World School (SWS) enables young athletes to commit to the practice sessions, games, and tournaments, and at the same time to acquire high-quality secondary education and graduate. In other words, we enable students who play sports to graduate on their own terms by allowing them to adjust the school year and even the schooling program (to a certain extent) to their needs.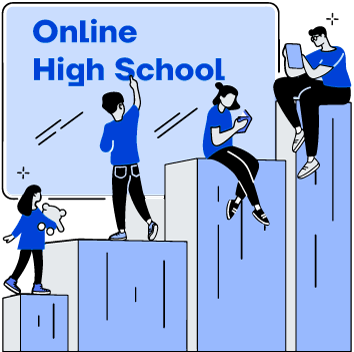 Package One
$3,500 / School Year
Price for a full academic year (10 months)
Pricing Policy effective from March 1st 2023. A family gets a 10% discount on the above price if they pay full amount up-front.
24/7 Access to the platform
Complete learning material
Online Group Classes
(4-8 weekly, 16-32 monthly)
Individual consultation with a tutor
(1 per week, 4 monthly)
Timely review of a student's progress
Optional 15-minute Parent-Teacher
consultation
Educational transcript at the end of the grade
A high school diploma upon graduation
Package Two
$4,500 / School Year
Price for a full academic year (10 months)
Pricing Policy effective from March 1st 2023. A family gets a 10% discount on the above price if they pay full amount up-front.
24/7 Access to the platform
Complete learning material
Online Group Classes
(4-8 weekly, 16-32 monthly)
Individual Online Classes
(up to 4 per week, 16 monthly)
Timely review of a student's progress
Optional 15-minute Parent-Teacher
consultation
Educational transcript at the end of the grade
A high school diploma upon graduation
Online Learning Platform
SWS students learn the majority of the time from our online learning platform. A learning management system allows each student to have their own profile with the assigned corresponding learning material for the specific grade. Students can access the platform 24/7, which means that they can easily coordinate the school schedule with the schedule of training and other sports obligations.
The platform has a clean and easy-to-use interface and contains the entire learning material and assessments that accompany lessons. Therefore, when a student is working on the material and doing the assignments, the platform measures their progress which is later turned into a grade. Students can work on the platform whenever they want and for as long as they like.
The material on the platform is shown through multimedia elements, so besides regular text, students get to learn from videos, graphics, photos, and audio lessons. Likewise, tests, quizzes, and assignments are designed in a manner that awakens and catches students' attention and keeps them engaged.
Online Classes in High School
Besides learning on the platform, SWS also provides live online classes for its students. These classes can be group and individual, but they are not mandatory. A student can follow them, but they are not obliged to do so because working on the platform will suffice. We say this because most of our high school students who play sports rarely have time to adjust to the timetables of online classes, and they find it easier to learn individually on their own.
We organize group classes eight times a week for core subjects only. These classes have predetermined timetables in the morning and afternoon Central European Time Zone. Individual classes are basically like a student is working with a private tutor in a one-on-one session. They are more convenient because a student can book a class when they need it and in time that suits them the best.
High School Program
SWS uses an accredited American curriculum which is also approved by the National Collegiate Athletic Association (NCAA). In short, it means that the program that we employ in high school is good enough to enable students to achieve academic excellence and graduate from high school and proceed to a college or a university after. Each grade consists of four core subjects and between two and four electives that a student chooses based on their interest.
Grades are divided into two semesters – A and B and the grade approximately lasts for 10 months. However, the flexibility of SWS allows young athletes to prolong the grade if necessary and to create pauses or breaks during the school year because of competitions or sports camps.
Core courses:
Language Arts
Mathematics
Science
Social Studies
Elective courses:
Health and Physical Education
World Languages (German, Spanish, French)
Career and Technology Electives
Accounting
Basic Web Design
Business Law
Career Planning
Computer Basics
Digital Media
Graphic Design
Intro to Business
JavaScript
Journalism
Media and Communication
Medicine
Additional Electives
Advanced Drawing
Art Appreciation
Art History
Basic Drawing
Beginning Painting
Character Education
Child Development
Financial Literacy
Music Appreciation
Psychology
Sociology
Theater Studies
Credit Point System
American high school system works through credit points. A student gains credits after they follow a core or elective subject (which is why all subjects are important). Core subjects are worth one credit point each, while electives can carry 0.5 or one credit point, depending on how long they last – a semester or the entire year. A student needs to collect 22 credit points throughout high school to be eligible to graduate.
In each grade, they should have between five and six credits at least so that at the end of Grade 12, they can have between 22 and 24 credits. In cases where a student transfers to SWS Online High School in grades 10, 11, or 12, we will recognize their credits from the previous school – if possible. If it is not possible to determine the number of credits a student carries from their former school, we have additional procedures.
High School Diploma Recognition
Upon finalizing grade 12 and acquiring at least 22 credit points, our students become eligible for graduation. Once they graduate, they will receive a high school diploma. Our diploma is equal in value to a diploma from any other American school that is legitimate. Therefore, our graduates don't have any trouble applying to a range of colleges and universities in the US, but also worldwide.
How To Apply?
The application process is fast and straightforward. You can apply any time of the year because our enrollments are always open. To apply, you need to fill in this form on our website. Additionally, you can send us an email with the required documents:
A scanned copy of a student's latest educational transcript
A scanned copy of a student's passport or ID
When you send these documents to info@sportworldschool.com, one of our consultants will contact you within 24 hours and explain the further procedure. If you have a question or doubts, you can always book a meeting with one of our consultants before applying.
Frequently asked questions:
Do You Accept International Students?

Sport World School accepts international students. Although we are an American school, our program is entirely delivered online. That allows us to enroll students from any part of the world, regardless of their location. International students can study under the same conditions as US (national) students, and they receive the same documents.
My child does not speak English perfectly. Is that a problem?

We don't expect kids to be fluent in English in elementary school, but they mustn't be absolute beginners. The entire program is in the English language, and the platform has a translator tool, so that can significantly help them. But if a child does not speak a word of English, that might be a bit problematic.
Can I Go to a University After This High School?

Of course, with a high school diploma that you will receive once you graduate from SWS, you will be able to apply to a range of colleges and universities worldwide. Given that our program is approved by the NCAA, you will also be able to apply to US colleges that are within the NCAA network, and you can also apply for a sports scholarship.
Are online classes pre-recorded?

Online Classes at Sport World School are live, not pre-recorded. It means that every class is done in real-life with a teacher present in the session. A student can ask a teacher anything during class. They are not just passive listeners. Sport World School offers group and individual online classes.
Does My Child Have To Do Online School Every Day?

A student does not have to "attend" online school every day. We offer many possibilities that allow students to adapt the school to their other obligations. They have 24/7 access to our online learning platform to study whenever they want, and students learn at their own tempo. Yet, this doesn't mean that they don't have to learn.
What Happens With School When I Have a Tournament?

If you have a tournament, a game, or simply a sports camp and you have to be absent from school, you just need to notify your assigned tutor. They will pause your program on the platform, which means you won't be getting any new assignments. Once you return, you can return where you have left off, and more importantly, you won't be overburdened with the learning material.
When Can I Enroll?

Sport World School has open enrollments throughout the entire year. That allows our students to enroll anytime during the year. Regardless of when you start your schooling with us, you will get the official ten months to complete the grade. Since you are a young athlete, and we are aware of your many sports obligations, your grade can be extended.
Online High School – from 9th to 12th grade