As an international online school, we deal with students from all around the world. We can't expect each student to speak English fluently, although our program is exclusively on that language. Some parents doubt whether or not they should enroll their child in Sport World School because they don't speak English great. Not speaking the language fluently can be a potential barrier, but we can help. Our online learning platform has useful tools that help students overcome minor language difficulties.
Sport World School is a Florida-based school, but a certified international provider of online education. Therefore, our program is entirely in English. A student needs to have a basic knowledge of the English language. However, they don't have to speak it fluently or like a native speaker. The learning platform that we use provides some useful tools to help those who are not native speakers.
The entire SWS curriculum is stored on a single online platform and presented through various elements that keep children entertained. That ensures that learning is not a dull process, but rather a curious exploration. Aside from that, the platform has features that are of great help to students, especially those who are not native speakers.
Dictionary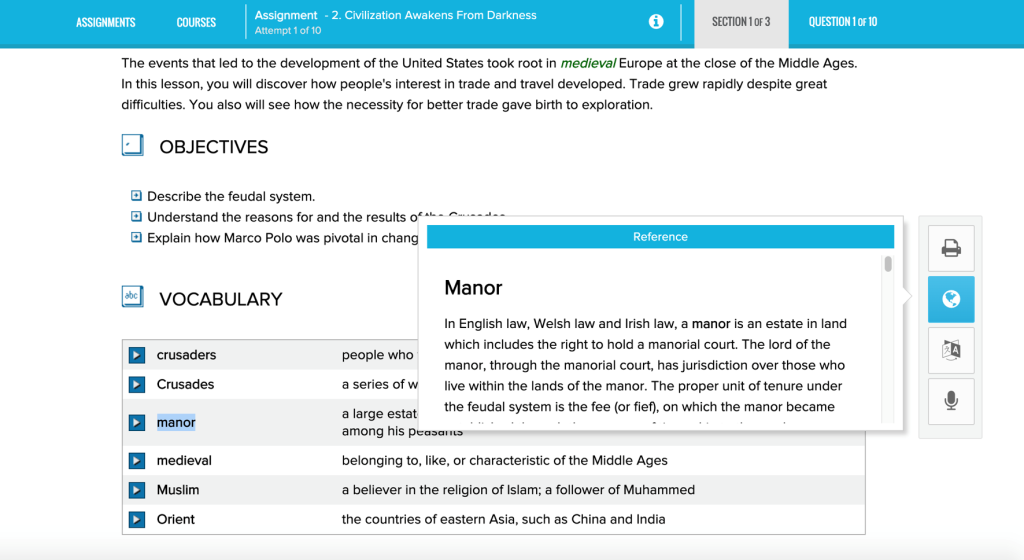 Each unit of each subject has a vocabulary of terms that students might not be familiar with. The platform has a built-in Dictionary where they can search for a particular term and see what it means. A student needs to highlight the unfamiliar word or phrase, click the icon on the left side on the screen, and a pop-up window will show. They will get a full explanation of the meaning of a highlighted term. Even better, they can click on references to see where the answer came from, so they can learn more if they wish.
Translator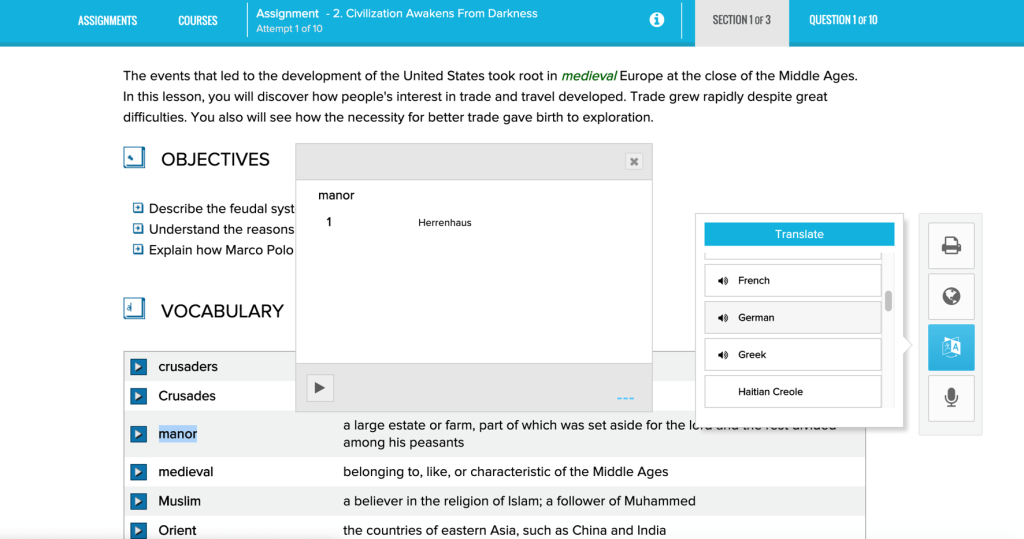 The translator works similarly. When a student highlights a specific word or phrase, they should click the translator icon on the screen's right side. A pop-up window will open offer them a list of languages they can choose from. They should opt for their native language, and the program will translate them the word to their mother language so that they can understand it better. Additionally, they can choose whether they want a translation in text or audio form.
Ask a Teacher
A lot of parents also ask if their child learns alone at our online school. Our program enables students to learn on their own without the help of a teacher or a parent. However, we do have one on one teaching support. A student can either schedule live online sessions with a teacher or reach them via Messaging Board that exists in the platform; teachers will reply as soon as possible. At first, the fact that their child learns alone makes some parents raise their brows, but that has some benefits.
If you were considering enrolling your young athlete in our online school, but have some doubts, let us know. Contact us via email at info@sportworldschool.com, and our education consultants will reply within 24 hours. They will answer all the questions you and your student may have before making final decisions about whether to enroll in Sport World School.