The adaptable learning schedule is probably the biggest advantage an online school has to offer to a student-athlete. With the flexibility and freedom to create a personal learning timetable, young athletes get enough time for sports activities and education. This convenience helps them achieve excellent results in both fields and secure their future. They can work towards becoming a professional athlete while not closing the door on the possibility of going to college and having a different kind of career.
If we had to explain Sport World School in a single sentence, we would say that we are an online school that fits your sports schedule. Young athletes, age 6 to 18, have to balance sports and school, which is not always an easy task. That is somewhat manageable at a younger age when schooling and athletic obligations are not so demanding. However, in higher grades and teenage years, achieving great sports results while keeping up with schooling can be overburdening and frustrating.
Professional Athletes Know The Advantages of Online School
In a recent interview with SWS, tennis player Janko Tipsarevic said so himself.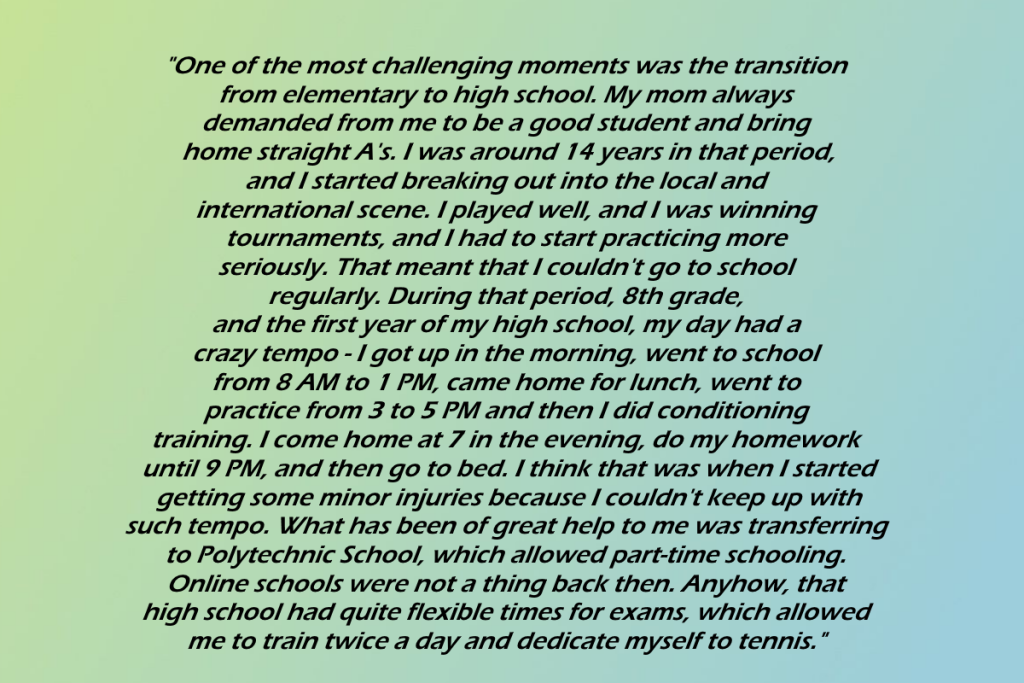 Janko sees the advantages that this type of education brings to kids-athletes. Tipsarevic Tennis Academy and Sport World School even have a successful partnership. Read more about it.
What Online Schools Changed?
Online schools gave students control over their time. A student is free to personalize schooling and adjust it to individual needs. At brick-and-mortar schools, you have one system that fits all. At SWS, each student makes a personal learning plan and organizes their learning however is suitable for them.
Athletes that follow an online school are never late for the class, overburdened with lessons, and they never have to skip training because of school. Our athlete-oriented learning methodology and adaptable learning schedule make it possible. Simultaneously, these benefits do not degrade the quality of education. Our school operates with an accredited US curriculum that delivers excellent knowledge to learners.
Flexible Online Schooling – Create Your Own Timetable
Here are a few things you need to know about SWS online school.
You can enroll anytime you want throughout the entire year
We grant you 24/7 access to the platform and learning material
To explain how the flexibility of online schooling directly helps young athletes, we will start from the second point.
The unlimited access to the platform
You have a classroom in a traditional school, but you have a learning platform at an online school. The platform contains learning material, tests, quizzes, essays, and resources for each subject. You can access them anytime you want. When you work on something, the platform measures your activity and progress. If today you had only two hours to spend on learning, that is entirely fine. We do not force you to spend an equal amount of time on the platform each day. You are the one deciding how much you will learn.
With no strict timetables, a student is not compelled to be "in school" at a specific time. Their school is just a couple of clicks away, and they can access it 24/7 from the comfort of their home. This unrestricted access enables a student to organize their school around their sports obligations. In other words, if a young athlete would rather have training from 8 AM to 10 AM instead of going to school – he or she can do that. They can learn later, and better yet, they are not missing anything. They are just postponing it for a more convenient time.
Online School Time Out
SWS does not follow the regular school calendar. We do not have specific enrollment dates, and you do not have to wait for September to start your schooling with us. You can enroll at any period of the year. In other words, your school year begins on the day when you start. Officially, a grade lasts ten months, but our flexibility enables us to prolong the grade for a couple of months. For a young athlete, that means a lot.
Let's say, for example, that you are an athlete who does winter sports. Naturally, you would have more time during summer to work on your education. Our online school enables you to do so without any consequences. Instead of having a fixed nine or ten months per grade at an online school, you have an entire year. That enables you to make your personal schooling plan. If you need a time out anytime during those 12 months due to your sports obligations, you can do so without worrying that you will fail the grade.
Summary
The flexibility that an online school provides directly affects students' progress in school and the sports fields. They will have enough time to work on sports achievements, yet they will not lose track of their education. Ultimately, that leads to a more happy, satisfied, and accomplished child in all fields relevant to them. They will not be overburdened with obligations or stressed because they can't manage everything.
If you would like to hear more about how Sport World School helps young athletes to have it all – book a consultation with one of our educational consultants. You can do so by filling in this form or sending us an email at info@sportworldschool.com. Our consultants will shed light on how online schooling works, how the program at SWS looks like, the recognition of the SWS diploma on a global level, and many other things.